CMM fixtures

CMM fixtures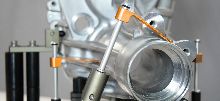 The Renishaw CMM fixtures range includes a wide choice of standard size base plates and an extensive selection of components with M4, M6 or M8 threaded fittings. Whether you are inspecting parts for aerospace, automotive, electronics, industrial or medical applications, Renishaw can provide a complete fixturing solution for any part regardless of its size, shape or material.
Fixturing solutions can be assembled very quickly to increase throughput and avoid delays in inspection. Each fixture plate has an alphanumeric grid pattern and each fixturing component has a clearly labelled part number, enabling easy documentation of the set-up. The same set-up can be quickly and accurately reproduced for subsequent inspections; this can be especially helpful when a single kit is used in multiple applications or where there are multiple users. Identical fixturing set-ups are important to improve the reproducibility and accuracy of inspection by removing variation from the process.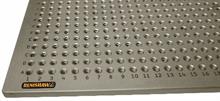 Base plates are available in sizes up to 1500 mm x 3000 mm and made from cast aluminium coated with NiTuff® hard coat anodise to resist wear and scratching. You can secure the plate to your machine with Renishaw's plate clamps (a pair of plate clamps is included with all plates up to 600 mm x 600 mm).
Fixturing components are easily adjustable and designed to hold components firmly with the minimum necessary force to avoid damage or distortion. The wide range of parts available offers flexibility when setting up a fixture to ensure a clear probe path for inspection.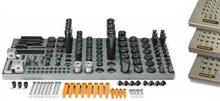 Renishaw CMM fixtures can be purchased in preconfigured kits and additional components can be purchased separately. A kit consists of one base plate and a comprehensive set of components.The type of parts you are going to fixture will determine which kit you choose. Renishaw offers two kit types:
Clamping kit
Magnetic and clamping kit (contains magnets for fixturing steel parts)
For more information download the Technical specification: CMM fixtures or contact your local sales office.

Download