QC20-W Ballbar System

The QC20-W system draws on Renishaw's many years of experience with ballbar testing and offers significant performance and operational benefits:
Bluetooth

wireless technology ensures no wire handling issues, closed door operation and reduced possibility for system damage.

New hardware and software which allows a 'partial arc' (220°) test. This gives you greater test flexibility including

improved Z axis testing (no custom fixturing required)
tests where axis travel is limited (typically Z axis on machining centres and X axis on lathes)
ability to test 3 planes from a single set up, using 'partial arc' tests for 2 of the tests and present a 'volumetric analysis'

Faster data reading for enhanced analysis on small test circle and high feed rates.

Enhanced software includes many new features for extended testing and greater ease of use.

ชม วีดิโอคลิปสาธิตทำงาน

This text will be replaced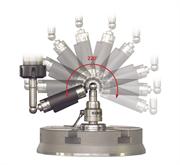 The standard QC20-W ballbar kit includes a 100 mm long ballbar assembly and 50, 150 and 300 mm long extension bars. By assembling the ballbar with different combinations of extension bars it is possible to carry out ballbar tests with 100, 150, 250, 300, 400, 450, 550 or 600 mm radii.
Redesigned ball mounts (including new centre pivot and tool cup extension) allow the QC20-W to carry out additional 220° 'partial arc' tests in planes through the centre pivot axis. This means that you can now carry out ballbar tests in three orthogonal planes without the need to reposition the centre pivot, so speeding up testing (if carrying out 'partial arc' tests with a radius greater than 150 mm custom fixturing is required).
The results can also be used in the new 'volumetric analysis' report function (see software section) with the assurance that all data has been gathered around the same point.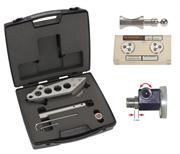 The QC20-W ballbar system can be enhanced by using a range of accessories.
With additional extensions it is possible to perform tests up to 1350 mm radius.

The small circle kit allows 50 mm radius tests to be carried out.

Testing can also be carried out on two axis machines using the VTL adaptor and on many lathes using the lathe accessory kit
With all these options, plus the flexibility to use various feedrates, the QC20-W allows very flexible testing.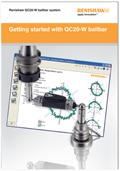 Every QC20-W ballbar kit includes the 'Getting started with QC20-W ballbar' DVD which introduces the system, then takes you step-by-step through the set-up, installation and use of the system, showing you how to carry out a test and review the results. The DVD is available, free of charge, from your local Renishaw office.
Alternatively, the content can be viewed chapter by chapter on the LaserCall support site: 'Getting started with QC20-W ballbar'.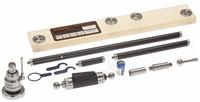 The standard QC20-W kit comes in its own robust carry case which includes the QC20-W wireless ballbar, battery, spindle and table mounts (pivots), 50 mm, 150 mm and 300 mm ballbar extensions (to allow various test diameters) and tools. Ballbar 20 software and manual are supplied on a single CD with a 'Getting started' video guide provided on a separate DVD.
Also included is a calibrator for enhanced test analysis. (It enables absolute readings for scale errors and a handy means of checking that the ballbar is reading nominally correctly).
Fully traceable calibration certificates, for the ballbar and calibrator and validation labels to display test results on machines are also included in the kit.
All kit items can be ordered separately as spare parts.
Sensor resolution
0.1 µm
4 µin
Ballbar measurement accuracy*
± (0.7 + 0.3% L) µm
± (27.6 + 0.3% L) µin
Ballbar measuring range
±1.0 mm
±0.04 in
Sensor stroke
-1.25 mm to +1.75 mm
-0.05 in to +0.07 in
Maximum sample rate
1000 Hz
1000 Hz
Data transmission range (Bluetooth,

Class 2)
10 m typical
33 ft typical
Operating range
0 °C - 40 °C
32 °F - 104 °F
System case dimensions (L x W x H)
395 mm x 300 mm x 105 mm
15.5 in x 11.8 in x 4.1 in
System case weight including kit contents
3.75 kg (approx)
8 lb 4 oz (approx)
* also referred to as 'radial measurement variation'
Valid 15 °C - 25 °C (59 °F - 77 °F)
L = length over which error is measured
i.e. Specification if measuring 10 µm error on machine ±0.73 µm
Specification if measuring 100 µm error on machine ±1.00 µm
Top
QC10 to QC20-W upgrade packages

To maintain your existing test capability you need only replace your ballbar/interface with the QC20-W. An attractively priced basic upgrade kit is available on an "exchange" basis for your current QC10. This includes packaging for secure installation in your QC10 system case (post 2001 metal framed cases only)
Further upgrade options are available to extend the basic kit's capability to include "partial" arc (3 plane testing) and small circle (50 mm radius) testing as well as the new system carry case

Download