Renishaw Equator™ fixtures

Modular fixturing for your Equator gauge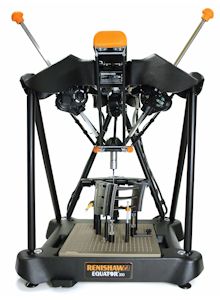 Renishaw Equator fixtures offer specifically designed base plates with a 3-point kinematic system for quick loading and unloading on to the machine. The positive engagement of the base plate ensures each fixture is repeatedly located and securely held in place, allowing quick changeover of parts on and off the Equator within seconds.
Using Renishaw Equator fixtures can improve the throughput, reproducibility and accuracy of your inspection process with quick and repeatable fixturing set-ups that are easy to configure:
Base plates are alpha-numerically labelled so set-ups can be documented and repeated quickly and accurately.
All components are hand-tightened and require no special tools.
Fixturing components can be easily positioned for minimal contact on and around the part, providing an unobstructed probe path for inspecting every detail on the part.
Base plates are available in M4, M6 or M8 thread sizes and made from cast aluminium coated with Nituff® hard coat anodise to reduce wear and scratching.
Top
Ordering your Equator fixtures
Renishaw Equator fixtures can be purchased in preconfigured kits and additional components can be purchased separately. A kit consists of one base plate and a comprehensive set of components.The type of parts you are going to fixture will determine which kit you choose. Renishaw offers two kit types:
Clamping kit
Magnetic and clamping kit (contains magnets for fixturing steel parts)
For further information download the Technical specification: Equator fixtures or contact your local sales office.

Download