UCC2-2 CMM Controller
About UCC2-2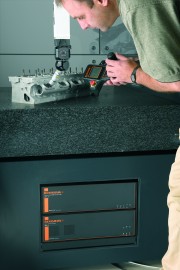 Renishaw's universal CMM controller is suitable for touch-trigger and scanning probing.
The new UCC2-2 offers full 4-axis control and scanning capability.
Known part adaptive scanning techniques:
Cylinder scan
Gasket scan
Grid scan
Automatic find centre
Advanced data filtering
Advanced analogue probe calibration
The technical specification includes the following features:
Specification
 
Maximum CMM axes
4
Scale inputs

Renishaw RGH22, RGH24, RGH41 and other digital scales are directly supported.

Analogue scales can be supported via an external interface.

Uncommitted binary I/O
6 inputs and 7 outputs available as standard
Joystick
Comprehensive joystick interface
Probe interface
TP20, TP200 / SCR200, SP600 and SP25M interfaces available as standard
SPA interface
 
Enclosure
19 in 3U rack-mountable enclosure with five expansion slots plus one PCI slot
Ethernet
Simple ethernet link to the PC via a crossover LAN cable
Error map
Internal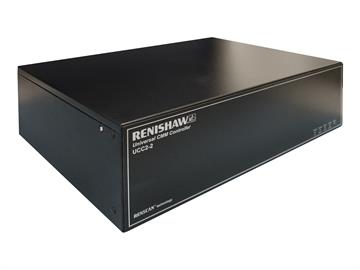 The UCC2-2 has a range of compatible additional card options.
Card
Function
PICS / RS232 auxiliary product interface
Adds two RS232 communication ports to the UCC, and includes a PICs compliant connector. Optional card to allow the basic measuring system to be enhanced with alternative probes and/or added peripherals.
PH10 PLUS motorised head interface
Provides an interface between the PH10 PLUS probe head and the application software, requiring no external hardware and with minimal cabling requirements.
SP80 probe interface
Plug-in card for the UCC that operates the SP80 scanning probe.
Additional axis
Can be configured for a rotary table or dual drive interface. More than one can be fitted in a single controller.
Temperature sensor

Traditionally high accuracy measurement has been confined to environments where the temperature can be controlled to minimise the influence of thermal errors. As more and more CMM manufacturers are moving towards in line inspection with shop hardened machines, the need for temperature compensation is increasing.

The temperature sensor inputs can now be connected to UCC2-2 and, using the additional temperature card, make machine and workpiece temperature compensations, increasing the accuracy of the CMM.