XL-80 laser measurement system

Fast, accurate and extremely portable, the XL-80 system retains the Renishaw ML10's key virtues of accuracy, reliability and durability in day-to-day use. Together with advanced software solutions and superior performance, the XL-80 can significantly improve your businesses performance.

ชม วีดิโอคลิปสาธิตทำงาน

This text will be replaced
Top
Key benefits of the XL-80
Renishaw has been designing, manufacturing and supplying laser systems for nearly 20 years. The XL-80 builds on that experience to deliver a real advance in system performance and operational benefits for users.
Portability and ease of use

The size of the XL-80 laser and XC-80 compensator means that a complete linear system can fit into a 'wheelie-case' and weighs only 12 kg. Add the tripod, in its own fabric case and you have a truly portable solution to machine metrology. Both the laser and compensator connect to your PC via USB so there is no separate interface required and no complicated set-up to worry about.

Accuracy and dynamic performance

Linear measurement accuracy is an assured ±0.5 ppm thanks to a precision stabilised laser source and accurateenvironmental compensation. Readings can be taken at up to 50 kHz, with a maximum linear measurement speed of 4 m/s and a linear resolution of 1 nm, even at maximum speed. All measurement options (not just linear) are based on interferometric measurements, giving confidence in the accuracy of the data recorded.

Ease of use

The XL-80 is quick and easy to set-up and use, reducing waiting time and increasing available measurement time, whilst still retaining the accuracy benefits of a pure interferometry based system.

Total confidence

Quality of design, build and technical support are Renishaw's hallmarks. State of the art facilities and quality assured production, that's vital, whether you're dealing in microinches or nanometres. A standard 3 year warranty is evidence of our commitment to you, alongside a worldwide support network.
Top
Benefits of laser verification of machines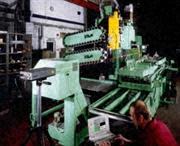 Increase machine uptime
Whatever your machine or motion system, you need to know that it is up to the job - before you even begin cutting or processing material or measuring components. You can gain a detailed picture of how each characteristic of a machine's positioning performance is varying over time. Predict when maintenance work will be required for specific machines, and establish contingency plans in advance.
Improve machine performance
Renishaw's performance measurement equipment can actually improve machine performance through targeted maintenance and error compensation.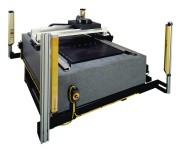 Increase knowledge of your machine / manufacturing capabilities
Use the right machine for the job - assigning specific toleranced jobs to machines capable of holding these tolerances ensures that the machine is fit for the required purpose and less likely to produce scrap.
Prove the performance of your machines
When customers need confidence in the quality of your machines or process then calibration graphs and regular performance evaluation results of your machines are excellent proof. These can give you a valuable competitive advantage over other manufacturers, who may not perform such tests.
Comply with quality assurance procedures and standards
It is a requirement of the ISO 9000 series of quality standards that manufacturing and inspection equipment is calibrated, monitored and controlled using recognised and traceable systems and methods.
Provide a professional maintenance service
High quality after-sales service is a must. Using the same calibration tools in the customer's premises as the system OEM uses in his factory is the best way to restore the machine to the original manufacturer's specification.