OMI-2 / OMI-2C Interface

About OMI-2

The OMI-2 optical machine interface is designed to reside in the machine's working envelope. Its purpose is to send and receive probe signals. The OMI-2, like the OMI, has the added benefit of supplying totem pole (transistor) output, thus eliminating the need for a separate MI 12 interface.
OMI-2 differs from the OMI in that it offers the new modulated transmission method, providing increased resistance to optical interference.
About OMI-2C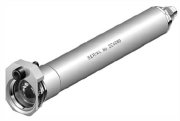 The OMI-2C is an alternative to the OMI-2, providing the same capability in a package that can be integrated into the machine's spindle housing.
The OMI-2C is suitable for use with Heidenhain and Siemens controllers.
Compatible probes
Renishaw's new generation of optical probes offers the new modulated transmission method, allowing them to be used with OMI-2, OMI-2C and OMI-2T combined interface/receiver units. These probes are also 'backward compatible'; they can be configured to communicate by the earlier legacy transmission method, so you can upgrade to a new generation probe module without having to upgrade your transmission units.
OMP40-2 - offers legacy and now modulated optical transmission methods
OMP60 - offers both legacy and modulated optical transmission methods
OMP400 - offers both legacy and modulated optical transmission methods
OMI-2 / OMI-2C specification
(refer to data sheet for full details)
Specification
Principal application
Small-to-medium machining centres and lathes
Transmission type
Infra-red optical
Transmission range & angle
Varies depending on probe.
Power supply
15 V to 30 V dc
Cable
8 m and 15 m standard lengths.

OMI-2: Screened, 13 core (each core 18 x 0.1 mm).

OMI-2C: 12-core polyurethane screened (each core 7 x 0.1 mm)

Mounting
OMI-2: Mounting bracket allowing directional setting

OMI-2C: Specifically designed for mounting in the machine spindle housing

Sealing
IPX8
Compatible interface
N/A
Ordering information
| Part number | Description |
| --- | --- |
| A-5191-0049 | OMI-2 interface kit (8 m) |
| A-5191-0050 | OMI-2 interface kit (15 m) |

Download
Data sheets
Installation and user's guides
Top