RMI-Q combined transmitter

About RMI-Q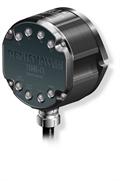 The RMI-Q is a combined transmitter and receiver unit for use with RTS, NEW RMP60, RMP60, RMP600,RMP40 and RLP40 radio probes. It is designed to be mounted within the machine's working envelope and unlike an optical transmission system, line of sight between the probe and receiver is not necessary.
RMI-Q permits numerous combinations of radio inspection probes and/or radio tool setters to be used on the same machine tool.
RMI-Q features and benefits
Robust long-range communications make RMI-Q ideal for larger machines
Enables cable-free, multiple probe and tool setter systems
Suitable for all types of CNC machines
Delivers interference free transmission through the use of frequency hopping spread spectrum (FHSS)
Globally recognised 2.4 GHz waveband - compliant with radio regulations in all major markets
ReniKey
All compatible Renishaw radio probes must be partnered with the RMI-Q. The application of ReniKey is the recommended method for the partnering of multiple RTS/RMPs.
RMI-Q support software (Renishaw part no. A-5687-5000) is available from your local Renishaw distributor/office. This product provides controller specific ReniKey macro cycles for both Siemens and Heidenhain CNC machine tool controllers. A generic ReniKey macro cycle is also provided for use with most other CNC machine tool controller types.
For product specifications or a full parts list see the Installation guide below.

Download