RMP60 touch probe

RMP60

ชม วีดิโอคลิปสาธิตทำงาน

This text will be replaced
The latest generation of RMP60 is designed to take advantage of the extended battery life and multiple probing capabilities of theRMI-Q whilst maintaining backwards compatibility with the original RMI.

As with its predecessor, RMP60 is a component of a radio transmission part probing system, and is ideally suited to large machining centres or where line-of-sight between probe and receiver is difficult to achieve.
RMP60 features an integrated probe module delivering exceptional robustness and generous overtravel.
RMP60 complies with FCC regulations and operates in the 2.4 GHz band. It delivers interference-free transmission through the use of FHSS (frequency hopping spread spectrum). This allows many systems to operate in the same machine shop without risk of cross-talk.

The RMI-Q integrated interface/receiver is used to communicate between the RMP60 probe and the machine control.
The probe may be activated by RF signal initiated by an M-code, spinning or shank switch.The probe can be used alone or as part of a larger system comprised of multiple radio spindle probes and/or tool setters to function with a single RMI-Q.
The latest generation of RMP60 continues to be compatible with the long established RMI.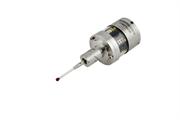 Also available is the RMP60M which enables probe inspection of part features that are inaccessible to the RMP60. It allows fitment of adaptors, extensions and Renishaw's LP2 touch probe.
Proven kinematic design

Secure frequency hopping spread spectrum (FHSS)

Globally recognised 2.4 GHz waveband - compliant with radio regulations in all major markets

Compact design

Various activation options and adjustable trigger force

1.00 μm 2σ repeatability
The following software packages can be used to program probing routines for work piece set-up and inspection on CNC machining centres:
EasyProbe - entry-level package for simple work piece set-up
Inspection - basic set-up and work piece inspection cycles, with automatic update of offsets
Inspection Plus - an integrated suite of inspection cycles including vector measurement
Productivity+™ Active Editor Pro - a PC-based software package with GUI, allowing the user to select features directly from an imported CAD model, making the generation of probing cycles even easier.
For product specifications or a full parts list see the Installation guide below.

Download