RMI combined transmitter

About RMI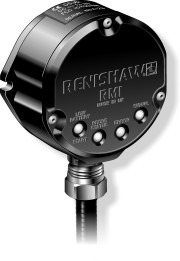 The RMI is a combined transmitter and receiver unit for use with the RMP60 , RMP600 and the new RMP40 and RLP40 radio probes. It is designed to be mounted within the machine's working envelope and can be positioned anywhere near the machine, resulting in a quick and simple installation. Unlike the optical transmission systems, line of sight between the probe and receiver is not necessary.
The RMP60 RMI system is ideal for retrofitting to existing machines.
Specification
Principal application
Medium-to-large machining centres, 5-axis machines, twin spindle machines and vertical turret lathes.
Transmission type

Frequency hopping spread spectrum (FHSS) radio.

2.400 - 2.4835 GHz.

2400 - 2483.5 MHz.

Transmission range

Up to 15 m (49.2 ft).

Cable

15 m standard length.

Optional 30 m and 50 m cable assemblies are also available.

Screened, 13 core (each core 18 x 0.1 mm).

Mounting
Mounting bracket allowing directional setting.
Sealing
IPX8.
Compatible interface
Not required.
Top
Accessories and ordering information
| Part number | Description |
| --- | --- |
| A-4113-0050 | RMI |
| A-2033-0830 | Mounting bracket |
| A-4113-0306 | Conduit kit |
| A-4113-0305 | Cover |
| A-4113-0302 | Cable assembly - 15 m |
| A-4113-0300 | Tool kit |